Learning English is a valuable—and fun—tool which has a lot of benefits. And with over 1.6 billion people speaking the language, it also means you'll be able to converse, entertain, and socialize with someone, somewhere, at any time.
Hollywood blockbusters always come out in English—and watching them dubbed to your native language is really not the same experience. With the U.S. and U.K. being two of the world's powerhouses of business and finance, English is also the default language of the economic world.
Whatever your reasons for joining more than a billion people who choose English as their second—or third or fourth or twentieth—language, you need the right tools to be successful.
Apps like Duolingo and Busuu are cool. Babbel and Mondly also help build your vocabulary and grammar as you learn. All these tools have a place in your learning.
But on their own, they're not enough. Every app has a different focus, and every learner has a different style. So it makes sense that every unique individual needs a little variety in their language learning game, right?
Right! To keep your knowledge growing, and stay engaged, you need variety.
Most importantly, you need to talk to other English speakers.
And that's where Discord comes in.
Wait, what? Discord is for gaming, not learning English!
We hear you. But Discord is actually one of the best places on the internet to learn English—and we'll show you why.
Discord: Why We Love It For Learning English

If you've ever played a MMORPG or first person shooter—or practically any mobile game—you've probably been on Discord. It's the #1 social media platform for gamers to message, get game support, and share their wins. It's also one of the most solid platforms for free voice chat.
And that's what makes it a great free English language learning tool.
Discord language learning delivers:
Free access: Discord is available for free on all Android, iOS, Windows, and web devices. It has extensive support across all platforms, and you can switch seamlessly between your devices without losing your place—or your patience.
Genuine social media: Discord gives you a place within a global community of like-minded people. Share tips and get feedback from a tight-knit group of active English language learners—anywhere, anytime. Open the door to a massive mix of English speakers from all over the world, who speak with different accents, different vocabulary, and different levels of fluency. With a highly engaged Discord English community, you will always have someone to practice with.
Talking works: It's pretty common knowledge that the best way to learn English, or any language in the world, is by speaking it and listening to it. With Discord, that's exactly what you'll be doing. It doesn't matter if you don't know anyone who speaks English. It doesn't matter if you're living in an isolated area where you can't practice with other English speakers. If you've got a mobile device or computer, you can speak English and listen to English speakers—and get valuable feedback in real time—any time you want.
Real-time notifications: Discord allows you to send and receive notifications just like you do with chat apps like Messenger, WhatsApp, and Viber. You can check in from anywhere to practice your growing skills, and with a highly active membership, there's always someone around to engage with you quickly.
English Server: Why English Learners Choose Us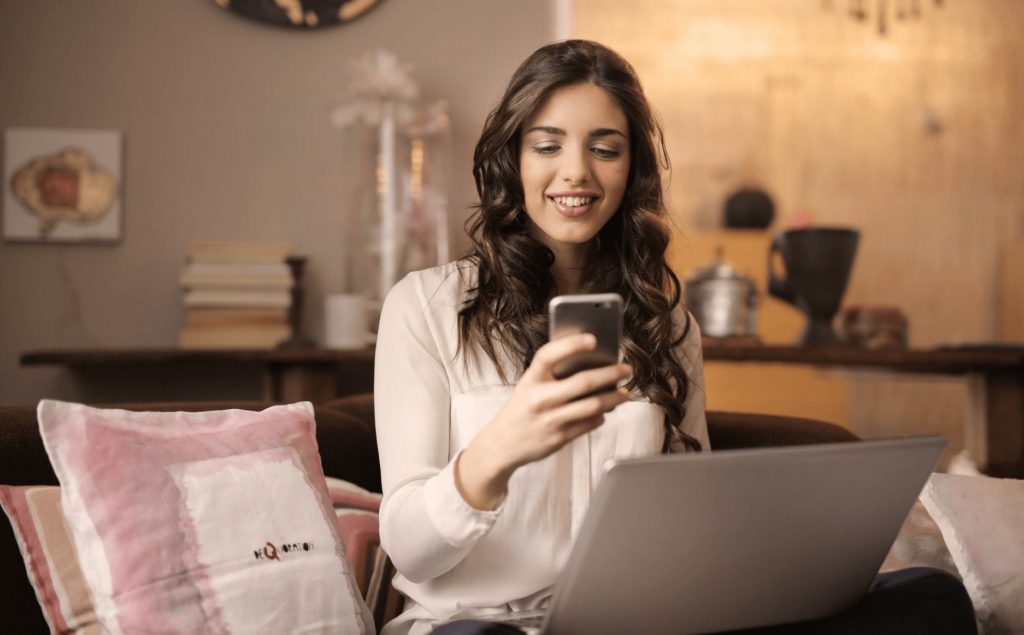 There's one English learning Discord server that stands out—and it just so happens it's ours.
At this moment we've got over 70,000 active members chatting, hanging out, sharing feedback, and fine-tuning their newly acquired language skills. There's never been a better time or a better way to learn one of the world's most popular languages.
Sure, there are other Discord channels offering English language learning. But with English Discord Server you've got one of the highest active membership counts. High member activity means:
You can get feedback on your use of the English language fast
You've always got somebody to practice with
Up to date resources and support
You can learn and practice your language skills when it suits your schedule. You're not tied to a teacher's schedule or limited to a certain activity window.
The English Discord server is also rich in features that make language learning fun and engaging at any level. It offers custom roles and challenging language ranks. Keep your language learning journey fresh and exciting with:
A strong forum of information on English language learning
Feedback channels to rate your pronunciation and grammar
Active teachers for group lessons
A safe, no-troll environment where you can build confidence in English
Chat channels and voice channels for every level of English speaker
Free, fun activities run by the moderators and teachers
Translation support
Moderated roles that give you extended permission for bots
Recognition for your contribution to the community's learning—get rewarded for your feedback and activity
English Server: How To Get Started Right Now
If you're ready to power up your English language journey the right way, English Discord is one of the most valuable free tools you can use. As the best free English learning app you can find, it's available for you right now—and 24/7 for as long as you need.
And joining is simple—you can do it right now:
Click on the English Discord link to receive your invite to our English learning community.
Join up.
Once you've joined, you'll be whisked to our greeting message, where you can navigate to the rules of our server (a must-read!)
After you've familiarized yourself with our rules, think of the channels as chat rooms—each with a different topic of conversation. Introduce yourself, say hello, and settle into your learning. We're here to help every step of the way.
If you have troubles verifying your phone, use our helper image: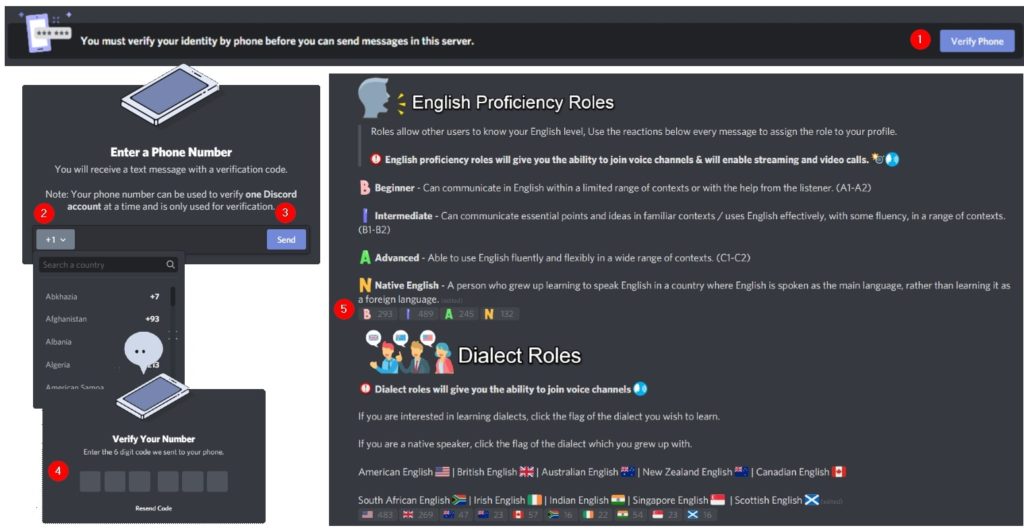 English Server: See You There!
Learning English is one of the best things you can do for your career, your social life, and your travel ambitions. And there's never been a better time to learn.
By utilizing different apps, and supplementing them with our English server for real-time English speaking practice, you'll be on your way to speaking English with fluency faster than ever before.